Ad Disclaimer
Ad Disclaimer!
Boku Slots is an affiliation website. We help you find gambling sites where you can play with real money.
Many or all of the products and brands featured here are from our partners who compensate us. This may influence how the product or brand appears on a page. However, this does not influence our evaluations. Our opinions are our own.
The information on this page, including operator and game details, is updated regularly but subject to change.
You're probably like us and enjoy gambling online because it's so easily accessible with the use of modern technology. We're all aware of the house edge which basically means the odds are tipped in the sites favour, but have you ever considered if your bingo games are rigged? For most players it's not something they tend to think about, but if you're anything like us then you will want to know if your online bingo is fixed or fair. After all it is your hard earned money you are gambling with, so you want to make sure the rules are being followed.
For most players, the reason they question online bingo is due to the fact that it is a coded algorithm on a betting site. Unlike the physical games where you are the one daubing the card and you can actually see the balls being drawn and the bingo caller.
So, let's take a look at whether games can be fixed by the sites or designers, and whether it is worth playing online bingo.
Is Your Online Bingo Site Fair?
There are important steps to consider to make sure you are on a reputable site which offers fair play.
UK Gambling Commission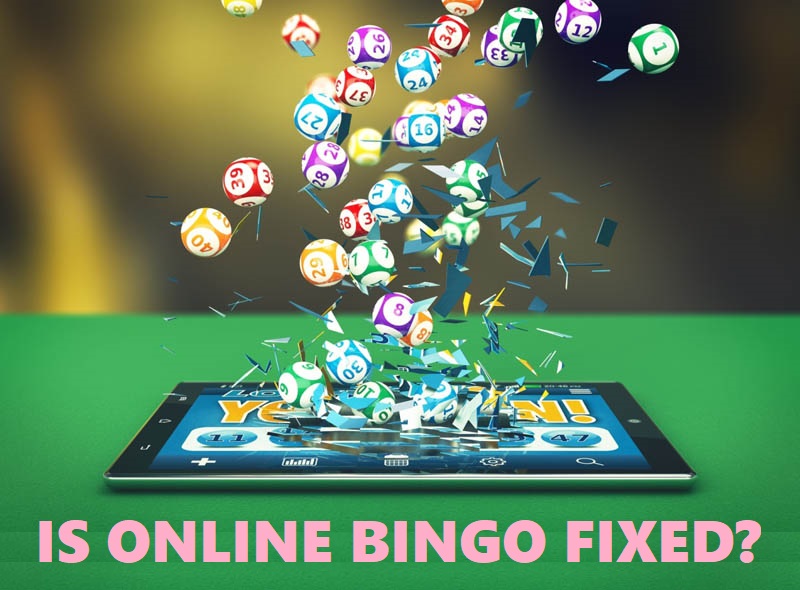 We'll start off by saying that most decent gambling sites will be regulated, so for UK players this will be through the UK Gambling Commission (UKGC). To have a licence with the UKGC you have to adhere to strict guidelines including checks on your games by external auditors.
Checking if your casino is UKGC regulated is quite easy, because most sites have a link at the bottom of their page which will take you straight through to their licensee information. If they don't then simply head over to the UKGC website and enter the name of the betting site into the 'Check a gambling business licence' section. This will confirm whether the site has an active licence or not.
Website Reviews
This can be a great way to check any games or betting sites you choose to play on, although remember that people always have an element of bias. Reviews and comments on forums will help you gauge previous players experiences. The more positive reviews the better your chance that the site or game will be reliable and fair towards players. We always do a quick google search before we register with any new online casino sites or play a new game. You will find that disgruntled people will always take time to complain online if they feel mistreated. So, you can determine if what others are saying would be a problem for you too.
General complaints tend to be connected to terms and conditions, where players were unaware of wagering requirements and as such cannot withdraw any winnings. Or they have been banned for playing excessive free bingo games. But the main one still always links back to a belief that the game is rigged, with comments more commonly being that the same people always seem to win.
Random Number Generators
We'll start off by saying, that if you have ensured your gambling site is UK Gambling Commission regulated then you should be covered. But it's not necessarily a bad thing to double check that your chosen betting site is audited, more specifically that the Random Number Generators (RNG) are checked.
We have done a full guide on what Random Number Generators are, but basically it is the code added to the game by the designers to ensure it is fair and consistent. The casino site does not have access to the RNG to ensure that there aren't dishonest actions taken. Audits of the betting sites are normally conducted by independent testing bodies such as eCOGRA so that they can maintain their UKGC licence. Part of this is to make any RNG testing information available for players, as such head to the bottom of the screen and you should see logos which you can click on and be taken through.
Although this can be a pain, it's actually a legal requirement for the casino if they want to maintain their UKGC licence. On top of that it provides another use and that is to ensure that all players are who they say they are. This alone will reduce the impact of fraudulent activity and protect other players including you. The overarching outcome of this is that you can be confident that you are playing against other legitimate bettors and that everything is fair.
The process of checking identification is quite simple for most players, and it stops a raft of issues including underage gambling, identity theft and money laundering.
Bingo Balls – How are They Chosen?
As we have mentioned above, the land-based bingo games involve a caller who will physically draw the ball and call the number. So, you know that whoever won has done so purely by chance.
In the online realm it's very different, because there is no caller; so, who picks the numbers and how are they chosen?
We've already mentioned the Random Number Generators (RNG) and it is this that is essentially the bingo caller for your online game. Because the RNG is an algorithm created by the designers, you know there will be fairness and consistency. The coding for the game will provide the same randomness that you would find if you were actually playing bingo in a hall.
The RNG's used within the gambling industry tend to be pseudorandom number generators and they require a seed number. This seed changes the outcome every millisecond by altering the last number or last two numbers produced. It then uses a mathematic formula which will create that random outcome and produce the virtual bingo ball.
Being Fair Doesn't Always Mean You Win
You will find that in many blogs or forums about a specific gambling site, one of the main complaints will be that a player never wins, or the same people always win. The reality is it's easy to have a losing streak, but it doesn't mean that the game is rigged against everyone.
When you really consider it from the site's perspective, would it benefit them to have one player always win or no one win? They'd soon be found out and lose their reputation and probably their UK Gambling Commission licence.
Just because you bet on a regular basis doesn't mean you should expect regular wins, mainly because the RNG provides randomness. No one would expect to win the lottery on a weekly basis, we understand that it's pure luck. The same can be said with online gambling, and for most the unpredictability is part of the excitement and appeal of playing in the first place.
You have to look at online gambling as more than winning money, because this type of thinking can lead to people having serious addictions. If you think this maybe you then please reach out to addiction help lines such as begambleaware.org. For many players the joy of gambling online is the entertainment and even social element of the online chat rooms.
If you do feel that the same players always seem to win, then consider that they may be playing with a lot more credit than you are, or have purchased the maximum number of cards, and have played for much longer. So, in most cases you can purchase a maximum of 96 cards, which when you compare it to your 1 card, means the other player had 96 times the chance of winning over you.
This isn't a great strategy to have though, because you can blow through a lot of money before you win. There is always the option of playing games with a lower maximum ticket number. It's wiser to remember why you gamble in the first place and that is to have fun.
Are Winning Strategies Worth it?
The obvious next step is to consider a strategy to help you win! The crux of it is, because of the RNG there isn't really a definitive strategy for winning, or everybody would be doing it.
If you are on a site which allows you to choose your own bingo cards, then statistically those which have an even amount of both odd and even numbers are more likely to win. Not all sites will allow you to pick and instead will just give you one randomly. As to whether this works or even provides a bigger increase in winnings is unlikely.
The reality is that people will win because they spent a large amount of time and money gambling, which is known as the 'heavy depositor effect'. Most players who do this can end up spending more money than they actually win.
Our advice would be to just have fun because that's why we play online games. If you're focusing on strategies and working out ways to win, then you're forgetting the reasons why you log in and play in the first place. Instead make sure that the gambling site you choose is reputable by checking their UKGC status and forum reviews.
Summary of Online Bingo – Is it Fixed?
The answer to the question is generally no, but that will depend on the site you have picked. We've mentioned it a few times throughout this article, but the main thing to focus on is the reputation of the betting site you have chosen. This is the key to knowing how much attention they give to the legal requirements of owning a gambling site, such as being UK Gambling Commission regulated. That doesn't mean that if they have a licence they will be perfect, because we know that's not always the case. Which is why it's sensible to check out the reviews and establish what other players think of them. Knowing that they will respond to your queries and offer support, should be one of the top items on your list of choosing a good site.
There are a few brands who are renowned for their bingo games, they are:
As these are such well known bingo brands, there is less likelihood that their bingo games will be fixed. Just the slightest hint that they may be rigged could have devastating consequences to their reputation. So these sites are a great starting point if you are looking for fair gaming.
As well as this guide we have others including What is Slingo, Casino House Edge UK Explained and What is Multi Stake Bingo.