Ad Disclaimer
Ad Disclaimer!
Boku Slots is an affiliation website. We help you find gambling sites where you can play with real money.
Many or all of the products and brands featured here are from our partners who compensate us. This may influence how the product or brand appears on a page. However, this does not influence our evaluations. Our opinions are our own.
The information on this page, including operator and game details, is updated regularly but subject to change.
Our gambling time is precious, it's the moments where we get to be alone from the stresses of the outside world and enjoy ourselves. Because of this it's important that you make sure you are safe from risk as you play, which can come in a number of ways. Most guides are there to tell you what to do, but we also like to advise our readers on the things to avoid when you're gambling online. Responsible betting is the key to keeping your gambling time fun, but that can easily be thrown out of the window by a variety of mistakes.
Common Mistakes Made Whilst Playing Casino Games
Not Setting a Limit or Budget on Your Gambling
This is one of the biggest mistakes a player can make and as such it should be avoided, because it could lead to you getting into debt. It is so easy to wager though a lot of money and not even realise it, especially in todays environment where players can bet from the comfort of their own homes at any time of the day. One thing we can be sure of when we do play, is that winning is difficult to predict. That is why the best thing you can do before you hit spin, is set a limit, and stick to it.
If you are unable to do so and find that this is a repeating pattern, then you may need support from external sources such as begambleaware.org. You also have the option to self-exclude from the site, which basically means you are putting a pause on your account for a set number of days.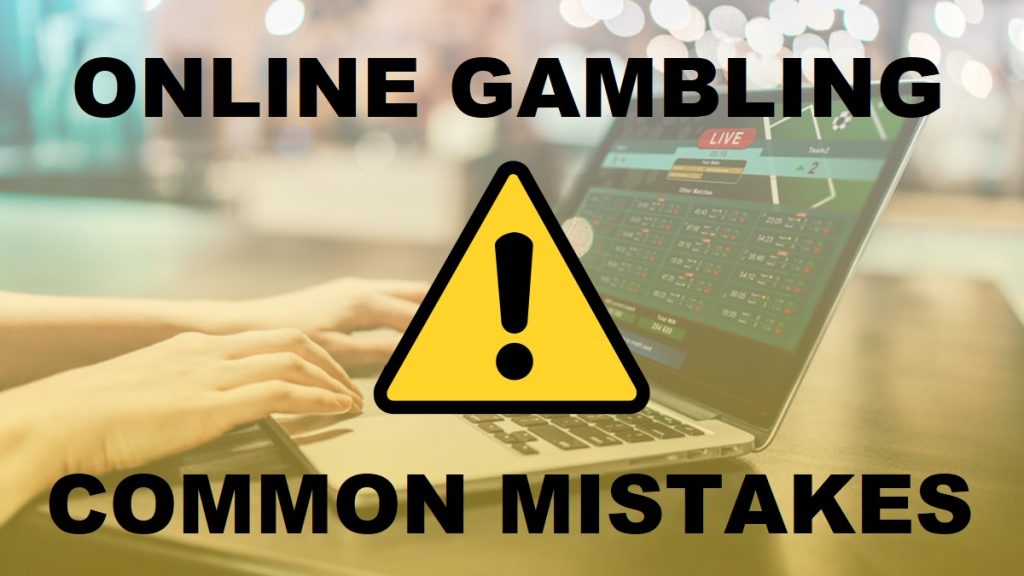 Players who choose not to establish a spending amount, always tend to go above what they originally wanted. Because of this it would be wise to have a separate account from your living expenses etc and only use disposable money. This means that if you did go overboard, it wouldn't have an impact on your life and your family in terms of being able to afford bills and food.
Linking to the above point, chasing losses known as the 'Gamblers Fallacy' can be a big problem for many gamers and it sadly isn't that uncommon. Players can quickly get through their budgets, especially if they go 'all in' on any of the games. Rather than leaving it there and accepting that you haven't won, some will believe that the next game is theirs and will be lucky for them. Sometimes this can lead to players adding even more than they originally had to claw the money back, and as such greater losses.
The most important thing to remember is you have set a budget for the day, and you want to stick to it. If you're having an unlucky streak, then make sure you remain calm and leave the gaming for the day and keep yourself occupied doing something else. You'll thank yourself the next day for not taking it too far. As we mentioned above, remember that all sites have to provide the option to self-exclude. If you're struggling to control your gambling, then you can always have your account closed for a set amount of time.
Not Choosing a Regulated Gaming Site
Sadly, this isn't something that many players focus on when they choose a gambling site. To us this seems crazy, because ensuring you have a regulated betting site means you know that they follow the strictest of guidelines so they can keep their licence. Most of you will know of the UK Gambling Commission (UKGC) and the impact it has had since its inception in 2007. From the introduction of Know your Customer identity checks, banning Autoplay and the use of credit cards, then you have the requirement to display terms and conditions more prominently on the site and on promotional images. The UKGC is there to protect the players and as such you will want to make sure you only choose a gambling site which has a licence. To do this, head to the bottom of the site, look for the UKGC logo and if you click you should be taken through and shown an active icon. If there is no link, then head to the actual UKGC site and you can type in the casinos name which will then show you whether they are licenced or not.
To make things a little easier for you we have a few of our favourite sites to play on, all of which are regulated by the UKGC.
Registering for a Gambling Site without Proper Research
When it comes to land-based casinos, there doesn't tend to be many options available. But online there are hundreds of gambling sites, and it feels like there's another new one every day which is quite daunting. This means you have the luxury of being picky and not just jumping on the first one you see. Sadly, many players opt for the first result from a search engine, assuming that their ranking means they are a secure site which isn't always the case. Also, the more you search, the more the cookies on your server will show you differing casinos and these results aren't based on the trustworthiness of the site. So, you need to make sure you do your homework before you provide any personal and bank details.
Firstly, you want to check if they're regulated, i.e., the UK Gambling Commission, then it's time to look over the site. How quickly did it load up, what games are available and how are they priced, what bonuses and promotions are there and check out the terms and conditions for things like wagering requirements.
Once you've found a site that you like, then our suggestion would be to check out some reviews and forums. Take into consideration that you will always find complaints about every site out there, so you'll need to establish whether what is being said concerns you. Some players can be disgruntled simply because they haven't won, which we know isn't a given. The best part of reviews is that you can discover issues with the site, without having to register and provide your personal details.
If after you've played a while, you realise the site wasn't what you thought, then don't stay with them just register with someone else. No one should settle for a subpar gambling experience!
Ignoring Bonuses and Promotions
Many gamblers are unsure as to whether they should take advantage of online bonuses and promotions. We have covered this extensively in our guides and the results of claiming a bonus can be hit or miss. Although there are plenty of positives, the negatives can be a little bothersome. They include special conditions such as wagering requirements which if excessive, can make the original bonus pointless.
Because of the poor reputation bonuses have, many players will miss out on some pretty interesting prizes. If you are intending to stay with a casino for a while, then being tied in with wagering won't be that big of a problem. Plus, you have added credit to give you a little more gambling time than your original budget may have allowed. The key is to read over the terms and conditions to get an idea of the impact they will have if you take out the bonus credit.
Not Reading Through the Terms and Conditions
We can all admit that most of us don't read the terms and conditions when we should. But this is especially significant when you are registering on a new online casino. There is important information to be found such as the wagering requirements attached to your welcome and regular bonuses. This could lead to you getting annoyed later on about being restricted in the type of games you can play or being able to remove winnings from your account.
By taking the time to read over the terms and conditions, you can spot any elements which seem unclear or that you don't understand and question them using the customer support option. If you feel the rules applied are unfair, then you can move to another site. Please be aware though that a lot of conditions such as wagering, tend to be commonplace on all gambling sites.
Choosing the Wrong Deposit Method
This may not seem important, but it can in fact add additional fees which reduces the amount of credit you have to play with. Various banking options have administration fees added to them, and that's why it's important to research before you commit. There are some exceptions to this, and they tend to be e-wallets such as PayPal or Skrill and pay by phone bill depositing using Boku.
Most gambling sites will have a page for banking information, but if it isn't there then you may find it in the FAQ section or terms and conditions. Before you even sign up with the site, take a look at the specifics of your chosen banking method and determine which is best for you over the long term.
Not Being at Your Best When You're Gambling
There's a number of situations where people may not be at there best and as such should refrain from gambling. This can include being under the influence of alcohol and drugs, feeling unwell or impaired and using betting as a way to work through anger or frustration. All of these can lead to negative outcomes, with players gambling way more than they wanted to.
The most important thing to do when you sit down is determine your state of mind and whether you should actually play at all. Yes, betting on your favourite game is a great way to decompress, but it will not get rid of your worries and anxiety. Gambling is also not the way to get you out of a financial situation, because the reality is that the odds will always favour the house (meaning the casino).
Drink and drugs are particularly problematic when gambling because they will remove any inhibitions that the player has. That feeling of throwing caution to the wind and betting big may seem great when you're drunk, but will you still feel as confident once the money is gone and you've spent far more than intended. The better option is to bet with a brew and make sure you have a clear head and can make rational decisions.
Being Picky with Games and Not Using Demo Mode
We tend to find a lot of gamblers have a favoured type of game they like to play, but this can be limiting, meaning you miss out in the long run. Even within the slot game family, there is quite a diversity of options. There is so much variety online available, why stick to one when the odds differ so much? Why not try something a little different such as table casino games like blackjack, craps or roulette. You could even play something completely different like the Japanese game Pachinko.
Most of these games will have demo options available, meaning you can play for free, but you will not win any real money. They are basically there to give the player an opportunity to 'try before you buy', but they're an ideal way of scoping out the pay table and features before you actually spend your credit. We always recommend to our readers that they familiarise themselves with a game before they part with any money. You're not going to like every game you play, so why waste your money on it?
Not Knowing About the Self-Exclude Tool
Sometimes we can get into unhealthy gambling patterns which can lead us down a path of financial difficulties and addiction. That's why it's essential that every player is aware of the ability to self-exclude from a gambling site. All sites licenced and regulated by the UK Gambling Commission must have this option available. It generally tends to mean that if the player opts to exclude then they will not be able to access their account for a period of time. This can be weeks or months depending on what the player chooses. They will not be able to bet or credit that account until the time period is over.
Other responsible gambling tools available set limits on your deposits and losses, so that the player doesn't go overboard and end up in debt. But if you feel you need additional support than we strongly recommend contacting Be Gamble Aware or GamCare.
Tips for Safer Gambling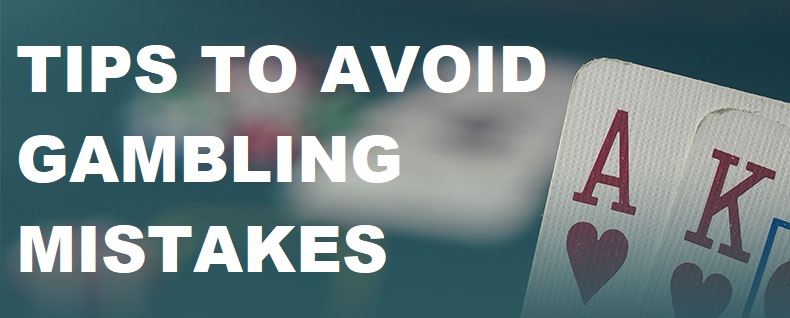 We all know there's a risk to gambling online, it is why the UKGC was introduced in the first place. But if you follow these tips then you should avoid the difficulties that many players can find themselves in when they lose control. The key is to have fun as we bet and not use the sites as a way to make money or get rid of any other debts.
Set a budget before you start and have a side bank account specifically for your gambling, so you don't use up any funds needed for essentials and bills. Some games allow you to set both credit and time limits on them to help you monitor your spending as you play.
Never borrow money to gamble – most gambling sites will conduct a source of wealth check as you register to make sure you have the funds available to bet. Using money from friends, family or even financial institutions to gamble can lead to debt that cannot be paid back. You should only bet with expendable money.
Don't fall for the gamblers fallacy and try to win back what you've lost. This includes falling for good luck strategies with the hope that they will help you win.
Consider how you're feeling before you play, because your emotions can significantly affect your choices as you bet. If you're feeling low, upset, or stressed, then we recommend taking a break from the sites and going for a walk to decompress.
Keep your alcohol use to a minimum when you gamble because it can remove any inhibitions.
Make sure you have regular breaks and move around; you can easily be drawn in by casino games for lengthy periods of time. Make sure that gambling isn't the forefront of your world and balance it with other activities such as socialising with friends and family.
Check out the demo games before you wager any of your own credit. You will improve your odds if you have previously checked out the pay table and how the game works.
The most important tip of all, if you're no longer having fun then stop playing! This is when you should talk to those you love and get advice from support groups on how to manage your gambling.
Summary of Things to Avoid When You're Gambling Online
It's always easy for us to tell you what you should do when you spend time playing online, but what about the things you shouldn't do? There are many pitfalls, and we hope this will help you dodge them. They are pretty common mistakes to make, and they could have significant implications to your financial and mental health.
The best thing to do is think about whether any of these points are something you're guilty of doing. You can then adapt your gambling time to create a more positive experience, because essentially, we play online to have fun. Ensuring that you play rationally and using secure and safe sites, should lead to you being able to bet without having significant losses which impact your personal life.
Take comfort in the fact that there are rules and regulations out there to keep us protected, especially since the UK Gambling Commission was created. They have introduced a number of changes for players who suffer from gambling addiction, but the result was more far reaching than intended and improved all of our gaming time.
We thought it was important to repeat again, that if you feel the need to gamble to financially support your life, or to pay back debts then you should seek help. Also, if you have a need to play and gambling stops being fun, then there are plenty of support groups out there. These include begambleaware.org and Gam Care, but if you google 'gamble addiction support', then you may find something within your local area.
As well as this guide we have others including What is Slingo, Casino House Edge UK Explained and Best Casino E-Wallets for Easy Online Gambling – Ewallet Betting Sites.