Ad Disclaimer
Ad Disclaimer!
Boku Slots is an affiliation website. We help you find gambling sites where you can play with real money.
Many or all of the products and brands featured here are from our partners who compensate us. This may influence how the product or brand appears on a page. However, this does not influence our evaluations. Our opinions are our own.
The information on this page, including operator and game details, is updated regularly but subject to change.
If you are new to the gambling world, then it can all seem a little complicated and confusing. We naturally assume that every player is experienced, but that isn't completely true because new gamers join sites every day. If you're unfamiliar with this world, then we are here to help with our little guide on how to open a new online casino account UK.
For those of you who haven't even decided on which betting site you want to register with, then don't worry we have some great recommendations for you. Should you prefer to choose your own, then we'll also give you guidance on how to pick so you will feel confident enough to begin. Remember that we have a full range of 'how to's' for any issues which may arise such as which casino bonus is best for you.
Which Online Casino to Choose
Before we go through the registering process, we'll help you decided whether the casino is right for you. This can be determined by the following factors:
Casino Bonuses – A lot of gamblers focus on the new player bonuses when they are considering joining a casino site, but in reality it shouldn't be their first thought. The number of terms and conditions that are attached such as game weightings and wagering requirements, can turn an incredible bonus into a hinderance. Most will offer first deposit bonuses such as free spins or cash matches on the deposit amount. In addition to the new customer bonuses the sites aim to keep players with their regular promotions. This could be in the form of cash back on the amount you have wagered or bonuses from the loyalty scheme. Every casino bonus will vary and not just because of the bonus itself, but also the wagering multiplier. It is these hidden extras which can cause frustrations for the player, so we always recommend having a look through them first and determining if they are worth the additional burden.
Gaming Options – This is the area which you should focus on when choosing a new site, because the games can make or break your experience. They should have a range of games and demo options, including classic and progressive slots, table casino, bingo, and live dealer games.
Customer Support – The customer service on the site may not be your first thought, but it is something you should consider before you register. Normally people will only think about support when something goes wrong, which can be a fatal error if the casino doesn't hold up to your expectations. Whether it's a glitch in the game, an issue with your winnings or payment, you will want it sorting as soon as possible. The first step is to establish what contact options the site offers, for example telephone, email and live chat. Secondly do they have an FAQ section to cover any basic questions you may have.
Payment Methods – Most gambling sites will offer a multitude of banking options, but it is worth making sure before you register. Especially because you want to establish if they have your preferred choice. There are so many to choose from including debit cards, e-wallets, bank transfers, Cryptocurrency such as Bitcoin, pay by mobile phone bill and pay by landline bill. If you're unsure of which is the right payment method for you, then we recommend researching each to establish how long it takes to deposit and withdraw casino funds, and whether there are any administration fees added. If you're wondering where credit cards are, then unfortunately you cannot use this as a banking option on UK based gambling sites. This is because they were banned as of April 2020 by the UK Gambling Commission (UKGC).
Licence and Regulatory Bodies – Another element that is sadly not considered by most players and yet it is important, because it can impact how safe your personal information and money is on the site. Many countries have set gambling bodies to legislate the industry, for example in the UK it is the UK Gambling Commission (UKGC). Having this certification means that there is more protection for vulnerable players, and it reduces the risk of criminal activity such as money laundering. Every casino, slot or betting site has to be licenced by the UKGC, so you can ensure that your chosen site is compliant by checking their list of licensees. If you look at the UKGC list and the site isn't on there, then we strongly advise that you do not register with them. Being a licensee with UKGC means you have the assurance that the site has adhered to their strict rules, because failure to comply means they will be removed or fined. Another respected licencing body within the industry is the Malta Gaming Authority (MGA). They insist that any sites adhere to their rules and any failure to comply means the licence will be removed until the matter is corrected.
Security Software – By choosing a UKGC licenced site, you will guarantee a high standard of security. This is due to the fact that all UKGC casino sites use SSL (Secure Sockets Layer) encryption software, similar to those used by top financial institutions. You can check the SSL certificate by looking for the link at the bottom of the site, which should be labelled SSL or 'Secured by' and then the company name such as Sectigo or Thawte.
Portability – You will find that most gambling sites are available on mobile devices, due to changes brought in by google. But it is still worth establishing that the casino looks good on your preferred device before you part with any money or personal details.
Customer Reviews/Reputation – Most of us would look at reviews for a holiday or hotel, so it makes sense to do the same for your new gaming site. By checking out what other customers and reviewers think of the site, you will be able to establish if it is worth your time and money. Having an impeccable reputation is important within this industry because there are so many alternative options available. This means that the top brands will aim to keep their customers happy, so that they will recommend the site to other players.
Our Choices for Reputable Online Gambling Sites
It's important that you have the information on how to choose a good gambling site, but we know that many of you like an easy life. Because of that here are a few of our top options.
How to Register or Sign Up on a New Casino?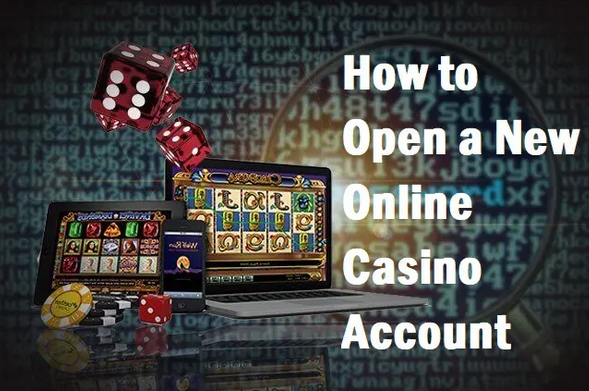 Setting up a new casino account is generally easy and simply requires a few details from the player for verification. But so that you have all the information we'll go through it step by step.
The first step as we have mentioned above is to check the site is UKGC regulated. Then head to the registration page or click on the 'sign up', 'join now' or 'play here' button.
The initial area of signing up will involve giving the site your basic details such as name, address, date of birth and contact information. It is here that most sites will request banking preferences and ask if you want to accept the new player bonuses.
The security element will be next, so you will need to create a username and a password with a memorable security question. You have probably done this many times before when you have generated other new accounts online. After the details have been provided then you will receive an email from the site with a link. It is the process of clicking this link which will confirm that your account sign up is complete. There are some casinos which allow you to use your social media profile for your confirmation.
How to Deposit on a New Gambling Site
Once your account has been opened you will want to make your first deposit. For those of you looking for free gaming then search for the demo options or practice modes. But here are the basic steps you will go through when crediting your account.
Head to the deposit or cashier page on the site.
Pick your chosen banking option and the amount you wish to credit to your account.
Follow the steps provided and confirm your request. The funds will then be transferred into your casino wallet, and you can begin to play.
You will find the following bank methods on most sites.
Debit Cards
E-Wallets such as PayPal, Neteller, Skrill and Ilixium
Pay by mobile phone bill
Pay by landline phone bill
Cryptocurrency such as Bitcoin
Bank Transfers
Identification Process – Know Your Customer KYC
With the introduction of the UK Gambling Commission (UKGC), came an increase in rules and regulations. This was especially evident in the identity verification process, because there was a need to enhance the protection of vulnerable gamblers and limit any misconduct from criminals.
Additional steps must now be completed by the betting site to ensure that they have verified a player's identity. Should the site not comply with this process, then they could receive a huge fine or even lose their UKGC licence. You're probably wondering what information is needed to complete the Know Your Customer on a casino or betting site?
You will find that there are some gambling sites which allow players to bet after they have deposited, even if they have not completed the KYC clearance. In those circumstances the check will happen when you choose to withdraw any winnings, which can be incredibly frustrating. There have been players who have had their identification rejected, which led to their account being frozen or closed. This is why it makes more sense to complete the KYC before you begin wagering. Some casinos conduct ad hoc checks to fulfil UKGC requirements, but if you keep your details up to date then you should be ok.
The general three areas that need to be verified are;
Proof of identification and age – You will need a government issued ID such as a passport or driver's licence. Birth certificates can be used, but the verification process will take longer.
Proof of Address – Utility bills or bank statements are accepted, but they must have the players name and address on them and be dated in the last three months.
Proof of payment method(s) – this can come in many forms and is completely dependent on the banking method chosen.
The majority of sites will have a specific area where you can load your identification. This means that the casino will have the information to conduct the check and for audits by the UKGC. Our top tip would be to ensure that any pictures are clear and unobstructed, or they may not be accepted by the casino.
Summary of How to Open a New Online Casino Account UK
This guide is pretty comprehensive and should give you everything you need to open a gambling account. The difficulty will be which one to choose, whether it is one of our recommendations or you want to find your own. A lot of people think that the registration process is complex, but in reality, it only takes a few minutes and is relatively easy. Bear in mind that although there are set standards as required by the UKGC, you will find slight differences between each of the sites.
Remember to check that the casino is protected by SSL encryption software, which you can do by finding the certificate at the bottom of the site. Also, that they are UKGC regulated which you will find on the licensee registration list. All of these different areas will ensure that the site you have chosen is reputable and secure with your information and money.