Ad Disclaimer
Ad Disclaimer!
Boku Slots is an affiliation website. We help you find gambling sites where you can play with real money.
Many or all of the products and brands featured here are from our partners who compensate us. This may influence how the product or brand appears on a page. However, this does not influence our evaluations. Our opinions are our own.
The information on this page, including operator and game details, is updated regularly but subject to change.
Picking a good casino or betting site is not an easy decision and for most people it can feel incredibly overwhelming. Sometimes the only choice is to go with the prettiest, but that might not be the best option in the long run. We would always recommend considering a variety of aspects, especially the terms and conditions such as casino bonuses, wagering requirements and the ways to credit your account. Of course, we like to have you covered and share our knowledge, so there are plenty of guides for you to read on this site. But within this article we're looking specifically at another important area and that is withdrawing credit on an online casino.
To make your search even easier, we will bring you our top tips and some amazing betting sites who are all UK Gambling Commission (UKGC) licenced.
The thrill of that online win is indescribable and for most of us all you want to do is withdraw the money fast and enjoy it. But cashing out your credit isn't always as simple as it should be. Our aim with this guide is to prepare you for those difficulties and help you make decisions which will streamline the process of removing your winnings.
How to Withdraw Real Money from an Online Casino
So that big win has landed, and you can see it teasing you from your betting wallet. You have two options, to use it or remove it! Should you want to remove the funds, then you are probably interested in the withdrawal process and how it works. One of the fundamental elements to this is the banking method you have chosen, but you will find that most gambling brands will try to ensure that the whole thing is as simple as possible. We should add that legislation and regulations can always hinder the withdrawal process, but they are there for a reason and we'll explore that a little more in this article.
It's important to point out that this is a general guide and as such you will find that each betting site will differ. The majority will have comparable systems so it won't be too dissimilar, mainly because they must comply with UKGC regulations.
Procedure for Withdrawing Credit from your Gambling Account
Once you have logged into your account, then head to the 'cashier' or 'wallet' page.
Pick the 'withdrawal' section to start the process.
Select the banking method and complete the details as required. Most gambling sites will state that players must opt for the same payment option that was used to credit the account. It is within the cashier section that you will discover information about withdrawal timescales and the fees connected to the transaction choices.
Confirm the amount of money you want to withdraw from the gaming wallet.
Depending on the site there may be extra steps to complete for verification, but once that is done then the transaction is completed, and you will receive a confirmation of approval.
As you can see the process is generally quite simple, but if you struggle at any point then you should contact the sites customer service. Most casino's have specific pages with details on how to message them, so head towards the bottom and look for the 'Contact Us' button.
Reputable Gambling Sites for Withdrawing Winnings
The majority of reputable gambling sites will focus on ensuring that the withdrawal process is simplified for their customers. This is why it's an important aspect to consider when choosing your casino or betting site. Should you have no idea where to start and you'd like us to assist, then here are a few of our top picks. If at any point there is a payment delay, then it may be down to other factors which we will explain a little further in the article.
How Long Does the Casino Withdrawal Process Take?
To answer the query 'how long does the withdrawal process take', we have to consider two questions. The first is what gambling site have you chosen and then the second is what banking method? Both will need time to complete the request, but that length of time can be reduced by your choices.
On average the withdrawal time for credit is 2 to 3 business days, and that includes a period where the site will allow you to cancel before the money is sent through. These are some of the more popular payment methods and their processing times.
Banking Method                           Withdrawal Time
Debit Card                                      3 to 6 Business Days
E-Wallets                                        1 to 3 Business Days
Bank Transfers                               5 to 8 Business Days
Even though most of you will probably want to know the most efficient site and banking method, sadly there is no definitive answer. Sometimes issues may arise which cannot be foreseen, but there are always ways to minimise this. For example, you can probably see by the withdrawal time, why so many people pick e-wallets as their chosen option.
If you're wondering why we haven't included credit cards in this list, that is because the UK Gambling Commission banned them from all betting sites on the 14th April 2020. After conducting a public consultation, the UKGC found that 22% of problem gamblers used credit cards and so the ban was brought in to reduce gambling harm.
What Reasons Can Cause a Delay in Your Casino Withdrawal?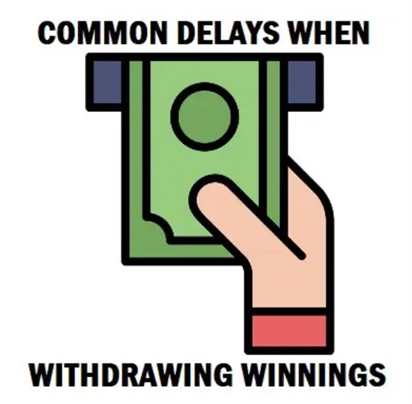 This is the area where your decisions can have an affect on how quickly you receive your winnings. These factors may be related to the actual gambling site or external influences, but they are all common reasons for delayed payments.
Terms and conditions – This relates specifically to wagering requirements, which can affect any player who has accepted a bonus or free spin. If you are tied in by wagering requirements, then you must bet a certain amount before you are able to withdraw any of your winnings. To give you an example, if you enjoy a £10 welcome bonus on 65x wagering requirement, then you have to play through £650 (65 x 10) before you can withdraw. Most gambling sites will provide a calculator on the amount the player still owes them. One of our top tips is to be choosey with your games, because they each have varying game weightings. Slots have the best weighting at 100%, so if you bet £1, then £1 will be removed from the wagering requirement.
Withdrawal Limits – On most gambling sites there are minimum withdrawal amounts. So, if you have £5 in your wallet but the limit is £10, then you cannot remove anything. There are a few reasons why the sites impose this kind of restriction, but the main one is the time it takes to process the funds, so it must be an amount that is worth it. Some sites have daily, weekly, and monthly limits, but you can find out the full details in their terms and conditions.
Bank holidays and weekends – You may have noticed within the banking section above, that we have put the estimated withdrawal time as business days. Most businesses including betting sites and banks don't always work on weekends and bank holidays, as such it is wiser to work out the withdrawal time based on normal working days.
Know Your Customer Check – Most players assume that once they have completed the KYC checks upon registration then that is it. Sadly, it isn't true, because identification checks can occur at any point, but more so when you want to withdraw credit. The need for KYC checks was to limit criminal activity within the gambling industry and to prevent harm to vulnerable people such as those who are underage. To do this the UKGC introduced the requirement that betting companies checked their players identification, which is normally government issued and can include a passport, driving licence and a utility bill. This type of ID will verify both the players age and their address, to ensure they are who they say they are.
Source of Wealth Check – In addition to the Know Your Customer check, a Source of Wealth or Source of Funds check was introduced. This requirement is to protect players who may be classed as vulnerable to gambling addictions. It tends to be triggered when someone places a bet out of their normal pattern or deposits a large amount of credit. To confirm that the player can in fact afford their level of bets, they have to produce financial documents. This could be anything from pay slips, contracts of employment, bank statements and even wills can be used as proof. Alike KYC the SOW checks can be conducted sporadically, but some players have found it will occur when they are trying to withdraw their winnings. Not only will this cause a delay, but some players have struggled to prove they have the funds and as such their account has been frozen or closed. This is why it is important to ensure that you register with reliable and licenced sites only.
Casino Holding Periods – Not a lot of players know that this even exists until it happens to them and then it can be frustrating. Some betting sites will apply a couple of days holding period once you've placed your request to withdraw, just in case you change your mind and want to play through the money instead. This is slightly sneaky because in our eyes it feels like they're trying to persuade us to gamble the money, rather than pay out. Although, we understand their perspective, because it can be quite time-consuming processing a number of withdrawal claims, if players simply use that money to credit their account. They believe it gives the player time to consider if they really want to do it, before the transaction is completed.
Online Casino Security
An element of the withdrawal process that many players don't consider is the security of the site. To ensure that they aren't hacked, most betting sites will have SSL (Secure Sockets Layer) encryption software. This is the same standard of software that top financial institutions have in place and it's also an element of their UKGC licence. To find out if your site is SSL protected, simply head to the bottom of the page, and look for the SSL certificate.
Why is security important to withdrawing your money? Well firstly you don't want someone getting into your account and taking your money. But secondly, you want to protect both your personal and bank details from any unwanted invaders, and this is what SSL is for.
Casino Withdrawal Fees
There's no definitive amount when it comes to the withdrawal fees, because it will depend on which payment method you have used and how much you are removing. If you choose debit cards or e-wallets such as Neteller, Skrill and Ilixium, there is normally no fee added.
An option available on all gambling sites is bank transfers, even though they are really slow and come with processing fees.
Summary of Withdrawing Credit on an Online Casino – Our Guide on What to do
If you were confused or unsure about the process of withdrawing your credit, then we hope that we have provided all the information that you need. We'll prewarn you that each site will be slightly different, but the general premise is the same.
You need to consider which banking method you want to use, even at the point you credit your account. The processing charges tend to be percentage based on the amount you want to remove. Most sites will have specific banking sections on a set page or within their terms and conditions concerning what the fees are. Our advice would be to take a look before you go any further and determine which you prefer. We have a bias towards e-wallets and phone bill methods such as Boku.
If you're unsure whether you have been charged extra before, then remember that you can check previous withdrawals under the 'payment history' section.
Once you've made your banking decision, then the next area which may catch you out is wagering requirements. Always read the terms and conditions before you accept any bonuses, because depending on the multiplier, you could be tied in for a long time.
Other than that, all we have left to say is we hope your cash out process is smooth and you enjoy your winnings!