Ad Disclaimer
Ad Disclaimer!
Boku Slots is an affiliation website. We help you find gambling sites where you can play with real money.
Many or all of the products and brands featured here are from our partners who compensate us. This may influence how the product or brand appears on a page. However, this does not influence our evaluations. Our opinions are our own.
The information on this page, including operator and game details, is updated regularly but subject to change.
Online gambling is a favourite pastime for many because it combines the thrills of a possible win, with incredible game play. If you type 'casino' into a search engine, then you will soon discover that there are hundreds of sites to choose from. Each will offer the same promises of quality gaming, incredible bonuses and high security, so how do you know which one to choose? Many players are looking for the first time and the task of picking a site can be daunting.
The key is to look for a site which is trustworthy, because after you register, they will have your personal and financial information. But how exactly can you do that? We're here to let you know what factors make online casinos reliable.
How To Choose an Online Gambling Site
Ensuring that you choose a quality online casino is important, perhaps more important than many people realise. Most will simply search online and assume that ranking high on a search engine makes the site reputable. Sadly, this isn't true, bearing in mind that cookies and paid adverts can seriously influence search results.
We would say that the world of online gambling is much more tightly controlled than it once was, so even those of you who are new shouldn't have too much of a problem, if you ensure that you follow these simple guidelines.

Regulations and Licencing
The online gambling industry is highly regulated, especially since the introduction of the UK Gambling Commission (UKGC) in 2007. If a betting site wishes to provide a service within the UK, then they must have a licence. To gain that licence they must adhere to a number of rules which have been established to provide a safe and secure environment for players.
We have seen many changes brought in by the UKGC, with a few being the ban on auto play, removal of the use of credit cards, ensuring terms and conditions such as wagering are shown on promotional imagery and improvements in identification checks through 'Know Your Customer'.
If you fail to check the licence before you register, then you have no assurances that the site is legitimate and that they will ensure your personal information and finances are kept safe. They may even be a scam site which can lead to you losing all your money without any come back.
If you're based in another country then you will find that most have regulatory bodies, but if not, there are a few other organisations who can provide a trustworthy stamp to the site. These include the Malta Gaming Authority which requires casinos maintain financial records and follow responsible gambling procedures. Then there is eCogra which is an alternative dispute resolution service, but players know that if the site displays their seal, then it will be following the high standards which are set by them and monitored regularly.
To know if a site is licenced at all, you should head to the bottom of the page where you will see a logo for the regulator. If you click on the logo, it should take you through to the site and confirm whether or not the casino is actively a member. If the link doesn't work, then most of the regulators have a search option on their sites where you can type in the name and discover its current status.
As you can probably tell, we've mentioned regulatory bodies and licencing first because of how important it is. Overall, it is an easy way to establish how reliable your gambling site will be. If they have a licence, then you know they have to follow the rules which are in place to protect us the player. No matter your experience in the online gaming world, always ensure that this is your first step before you register on a new site.
Variety of Games Offered by Gambling Site
One of the main reasons we gamble online is because of the huge variety of games offered by casinos and betting sites. Whether its slots, bingo, live casino, table games such as craps and roulette, or even unique options such as Pachinko. There's literally something for everyone, no matter your taste.
But how do the games offered on the site indicate that it's reputable? It's not necessarily the amount available, but who are the providers of those games. Big designers within the industry are very cautious about who they allow to use their games, and as such they require assurances that the casino brand is legitimate. If you see the likes of Microgaming, Playtech and NetEnt on your chosen casino, then you have a good chance that they are a decent option; especially if they are UKGC licenced as well.
The reason many of these designers have such a good reputation is because of the security encoded into their games. Random Number Generators (RNG) are also within the game, to provide the randomness online that you would expect from a land-based casino. Both the RNG and security of the games are audited by independent agencies, with the information from those audits being available via links at the bottom of most gambling sites.
Because the games are coded by the designers and have high security levels, then there is a lower risk of them being hacked and manipulated by fraudsters, thus making them more reliable.
Casino Site Security
We've mentioned it slightly above, but one of the main elements you should look for is how secure the site is. Again, the first step should always be making sure the site is regulated by the appropriate authorities such as the UK Gambling Commission. After that it is important to see if there are security measures in place, more specifically the SSL (Secure Sockets Layer) certificate.
So, what is the SSL? It is a security technology which establishes an encrypted link between the server on the casino and the customer. Basically, it is a way to transfer any of your details over to the site safely, including bank information. Having SSL technology means that your transactions and personal data will be secured from potential hackers, using encryption software.
You will know if the site you are choosing has an SSL certificate by heading down to the bottom of the page where you should find an SSL logo or the term 'Secured by', with a company name such as Thawte or Sectigo. This will give you all of the information on the SSL certificate and the company who delivers security to the site.
If you know your site is secure for both your personal and financial information, then you will feel more confident in spending your money there.
The Standard of Customer Support
Now this one can be difficult to establish when you're trying to determine whether a site is reliable and cares for its customers. Most gambling sites will have a customer support section at the bottom of their page or information within their FAQ section. The general formats of communication tend to be e-mail, telephone, live chat and post, but most sites prefer you to e-mail them as it's less of an administrative burden.
Before you register with your chosen site, we would recommend contacting them via their customer support section and asking a general query. It may be what payment methods they offer, if there are fees added to a specific payment offer or even if they have a game you like. It can be anything, because what you're looking for is the length of time it takes for them to response and the kind of reply you get back.
Decent gambling sites will pay for quality customer support and as such you should get a reply within their specified timeframe. Normally this tends to be 24 hours, but it can be a little longer for some of the communication methods we have mentioned.
If you receive no response at all, then imagine how you will feel if your query was a serious matter such as a game glitching when you've won a jackpot, or your casino wallet having less money in it than expected. When things go wrong it is essential to have a reliable casino to make sure that it is looked into and corrected.
Once you determine that the site has a good support service, then you will have an assurance that should there be any problems, at least you have someone to contact who can hopefully sort it out.
What are the Available Payment Options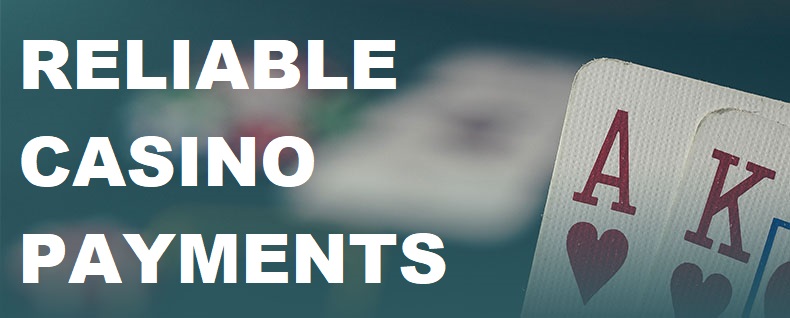 Not only should you consider what payment methods are available, but also how quick and easy it is to add or remove credit from your gambling wallet. This again can be difficult to determine unless you have registered with the site and actually use the banking method.
Most quality sites will have a good range of banking options, whether it's direct debit, Boku pay by phone bill, or e-wallets such as Neteller, PayPal and Skrill. So, we would recommend that you initially ensure that the banking method you want is available on the gambling site. Then head to the terms and conditions and see whether there are any administration fees and how long the site estimates it will take to add and withdraw credit. If you're satisfied with that then the only way to truly know how good the banking option is, is by using it.
After you have registered with the site and gone through the banking process, if you find it is not satisfactory then you can either look at using another option or try another site. It may be worth raising the problem with the site initially because it could be the banking provider who has caused the delay and not the gambling site.
Another method of determining how good or bad a banking option is, is through online reviews from sites such as ours, or forums where multiple gamblers will have their say. You may be able to gauge the level of service from the site and how good the banking method is from the comments made. It's always sensible to read forums about your chosen site and determine if the negative comments are enough to dissuade you from registering.
One final factor to look out for which should make you rethink about joining a site, is if they use reverse withdrawals. This has been banned on all UK gambling sites, and as such it should raise alarm bells if you come across it. We have felt it was ethically a problem for a long time and as such we were glad that the UK Gambling Commission removed it.
Reverse withdrawals could be found when a player requests to remove their winnings from their account by hitting the cash out button. Previously all casinos would impose a time period from the moment you began the request to them actually starting to process the payment. This time period allowed players to retract the withdrawal request and instead play through their money.
Thankfully on UK sites this has been removed and when a player hits the cash out button that request cannot be reversed. The only way to play with that money is to re-credit it to your account from your bank.
If your site has kept the option for reverse withdrawal, then you should consider if this is somewhere you want to continue to play. This option is a strong temptation for players to continue gambling and as such it poses a risk to the vulnerable.
Casino Bonuses
There have been many changes to the bonuses and promotions found on gambling sites over the last couple of decades. Gone are the huge cash match bonuses found within welcome bonuses. What you will find instead are more modest offers and greater transparency in the terms and conditions which are attached to them.
But how do responsible bonuses help you determine if a site is reliable? Well, it's all about the tactics your chosen site will use. Are they attempting to entice the player with attractive bonuses, but the reality is you're stuck with them and having to gamble through a lot of credit due to wagering requirements. A decent site will provide you with all the information you need to know, so that you can make a rational decision about whether you want to accept the bonus.
Also are the offers for new players only and there's nothing for regulars? That would suggest that the site doesn't value those loyal customers who return week after week.
Some bettors choose not to partake in any bonuses or promotions at all, whereas others enjoy the perks of the regular offers and extras such as loyalty and VIP schemes. Our advice is do your research before you register, including the terms and conditions; and yes, we know how boring they can be. As long as you have a general idea of how the bonus will impact you, then you can make the decision responsibly.
Responsible Gambling
Most regulatory bodies in all countries who allow online gambling, have introduced the requirement for sites to inform their players about the need for responsible gambling and how to access help. Even affiliate sites such as ourselves, are required to inform readers that gambling is for players 18 years old and above, and that you should stop playing if it is no longer fun.
If you head to the bottom of the site you are interested in, then you should find links and information for various gambling support charities. This will include Be Gamble Aware, Gam Stop and Gam Care, who are all available to provide you with advice should you feel you have a gambling problem.
Any betting sites who don't have this information, may not have your best interests at heart and as such it may be best to stay away from them.
In addition, the site should have practices implemented which prevent irresponsible gambling, such as deposit limits, cool down period, and the option to self-exclude.
Players Reviews
We have mentioned a little bit about reviews above, but they are a great way to find out if a site is as good and reliable as they say they are. Of course, you will always find that there are some players who can never be pleased, you just have to determine if you can accept their negative experiences.
As well as real life players you have independent review sites such as ours, who will direct you to our preferred list of gambling sites which are all UKGC regulated.
Ensuring that the site has a good reputation with both players and reviewers, should provide you with a good idea as to the quality of your gambling experience if you join them.
Summary of What Factors Make Online Casinos Reliable?
Determining the reliability of a site comes in a number of ways, most of which we have covered in this article. But you also need to consider what it is 'you' want from the betting site, because which one you choose is very personal. Some of you may focus on the games, whilst others prefer a raft of bonuses; the bottom line is that you need to be clear on the specifics of the type of site you want to spend time on.
Additional features to consider which are more technological than the other points we have raised are,
Is the site mobile friendly?
What is the site speed like?
Is it user friendly and can you navigate through pages simply?
How stimulating do you find the site and is it visually appealing?
These should be factored into your final decision because you want to ensure that your time on the gambling site is an enjoyable one.
Obviously with any activity online there is always a slight element of risk, but ensuring your casino is reliable should give you some piece of mind.
If you prefer the easy route and you'd like us to provide you with some of our favourites, then here they are.
As well as this guide we have others including Online Bingo – Is It Fixed, Why are Online Casinos Better Than Land Based Casinos and Things to Avoid When You're Gambling Online.