Ad Disclaimer
Ad Disclaimer!
Boku Slots is an affiliation website. We help you find gambling sites where you can play with real money.
Many or all of the products and brands featured here are from our partners who compensate us. This may influence how the product or brand appears on a page. However, this does not influence our evaluations. Our opinions are our own.
The information on this page, including operator and game details, is updated regularly but subject to change.
The UK Gambling Commission (UKGC) has had a significant impact on the betting industry since its inception in 2007. Not only have they insisted in more transparency in terms and conditions and bonuses, but there have been fundamental changes to gamblers options such as the banning of credit cards as a payment method.
If the sites thought they would be given a break over covid they were wrong, because the UKGC introduced new restrictions which had to be in place by the 31st October 2021. It was a 'package of strict measures' as a way to protect players and enhance the controls on online slots.
The introduction of the amendments was due to a public consultation which looked at 'making online games safer by design'. This was conducted in July 2020 and considered feedback from varying people, including GamCare. Its focus was to review what risk intensive play elements of online slots had on bettors.
Although many operators denied the risk between auto-play and gambling addictions for the majority of their players, the UKGC did not share the same view and believed that there was potentially sizeable harm to the player. So, what does this mean for you as an online gambler?
The UK Gambling Commission Changes from 31st October 2021
Auto-Play is Banned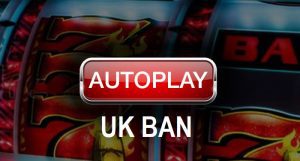 For those of you unfamiliar with auto-play, it is the option to spin the reels repeatedly without having to hit the spin button. Basically, the game will spin for you until your credit runs out. This has been a popular option for many gamblers who hate to have to press spin over and over again, or who use auto-play for their slots as they play a game of bingo.
Bearing this in mind it is pretty obvious the issues that both the UKGC and GamCare would have with it. Because many gamblers with addiction problems have found that they spend more and lose track of their playing time due to auto-play.
Minimum Game Cycle Speed to Be At Least 2.5 Seconds
A game cycle is basically the period from when you hit spin, to the next time you can hit spin again. The new rules for the UKGC brought in a 2.5 second game cycle speed. So, after you hit spin, you now have to wait 2.5 seconds even if the spin completes in less time than that.
This new regulation was introduced because it was found that players could bet through a lot of money very quickly. So, if the spins were slower then it may lead to more control over their play.
Speed Up Features
The initial change of this regulation relates to the banning of any turbo play buttons which skip animations and speed up the element of play. The other aspect which was amended focused on the illusion that the game gave to the gambler, that they had control over the outcome. This isn't an easy concept, because there are many examples where players may believe they have influence. For example, during a feature round when a player has the option to choose a bonus hidden under a symbol. The reality is the outcome is probably already determined and their choice has no impact on that. Most bonus rounds have pick-me options, so the only way to combat the matter is to remove the player interaction and simply inform them of the reward.
Reverse Withdrawals
This has long been an issue within the gambling industry and criticised by many gambling addiction charities. So, it came as no surprise that reverse withdrawals have been banned as an option. Previously it meant that if you decided to remove your winnings and hit the cash out button, many casinos gave a time period for you to retract the withdrawal request and play through the money. Now when you choose to cash out you cannot change your mind and the only way to use it is to re-credit from your bank account. The UK Gambling Commission during their consultation found that the reverse withdrawal function was a strong temptation for players to continue gambling and as such it posed a risk to the vulnerable.
Removal of Sounds and Imagery Which Create an Illusion of a Win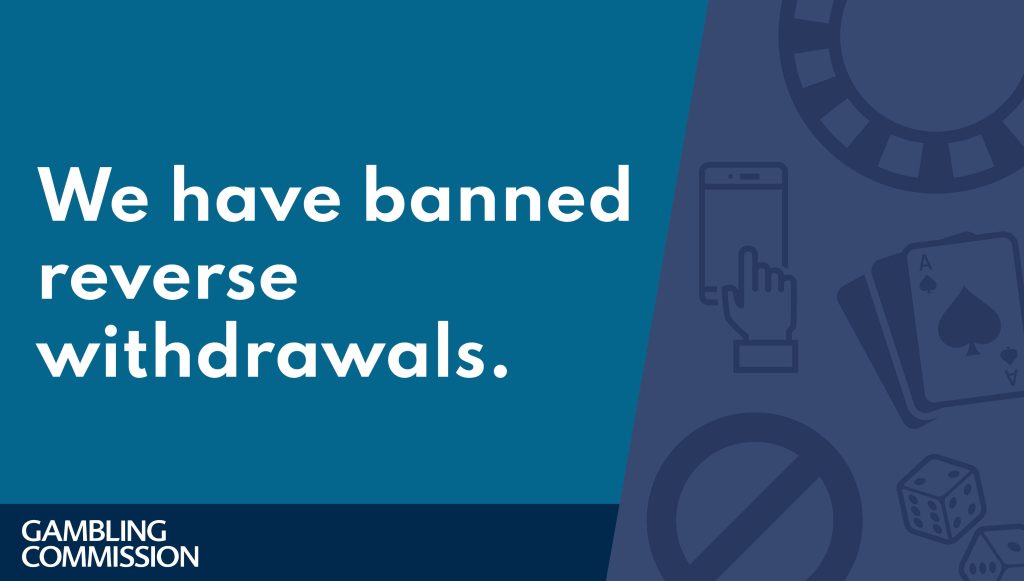 This change is an interesting one, because there's probably not many of you out there who will have considered it. If you win an amount that is equal or less than your original stake, then the site can no longer celebrate it as a win with sounds or imagery. So, for example, if you paid £1 to spin and you win 50p, essentially you have walked away with 50p less. In the past the mere fact that you won at all would have been seen as a celebration. Of course, if you won more than your stake say £1.50, then you will see the usual imagery and sounds.
Total Losses Must Be Clearly Displayed for the Player
One of the difficulties for players, especially those with gambling addictions is that they don't know how long they have been playing and how much they've wagered. Because of this they can spend far more than they wanted to and can afford. By having a section on the screen which states how much the player has lost, then it will repeatedly remind them so that they will have to make the decision as to whether to continue. The impact of seeing the figure increase can cause a player to stop in their tracks and as such reduce the harm caused.
UK Gambling Commission Response to Auto Play Changes
During the consultation many operators attempted to plead their case in regard to the auto-play feature, citing that players with disabilities would be penalised. This response didn't sway the UKGC from their decision to focus on the protection of vulnerable people.
The Chief Executive of the UK Gambling Commission stated that 'drastic action' was needed and "to make online games safer we are introducing a ban on features that speed up play or give the illusion of control over the outcome. We are also introducing a ban on auto-play, losses disguised as wins, and slot spin speeds faster than 2.5 seconds. This is another important step in making gambling safer and where the evidence shows that there are other opportunities to do that, we are determined to take them."
Summary of Slot Game Auto-play Ban
The response from the UKGC to their changes, provides us with a picture of what is to come. Since the UKGC was introduced, it has brought in a series of regulation changes with an aim to reduce the affects of gambling on the vulnerable. From this we can surmise that if further evidence appears that more amendments are needed, then they won't hesitate to take action even if the operators are unhappy.
As to whether the regulation changes will have any affect on the level of addiction within the UK and players behaviour, is to be seen. Many have stated that removing auto-play may actually lead to gamblers spending more money, because they have full control instead of it being a set amount. The use of auto-play creates a break in the persons play, rather than them repeatedly hitting a button with no thought as to what they are spending. The biggest issue we can see is how the sites will determine what is an illusion of control. This overarching requirement could see the loss of many of our favourite slot games.
There is no denying that the industry has needed many of the changes introduced, and we applaud the UKGC on the removal of reverse withdrawals. But there is a sense within the community that many of the aspects we love about online games will be stripped, creating a drab experience for us all. Elements such as pick-me bonus features create an additional excitement, which many players relish and it will be sad to see it go.
If you're looking for additional information, then we recommend checking out the UK Gambling Commissions response to the changes as to why the regulations have been introduced.
For those of you who have enjoyed this article then we have plenty more, including Gambling Winnings Tax in the UK Explained, Why are Credit Card Payments Banned on UK Gambling Sites and Pachinko Games Online.