Ad Disclaimer
Ad Disclaimer!
Boku Slots is an affiliation website. We help you find gambling sites where you can play with real money.
Many or all of the products and brands featured here are from our partners who compensate us. This may influence how the product or brand appears on a page. However, this does not influence our evaluations. Our opinions are our own.
The information on this page, including operator and game details, is updated regularly but subject to change.
For many people their knowledge of money laundering comes from those big Hollywood blockbusters or TV shows, with notable names such as Al Capone and Pablo Escobar. But how does it affect the online gambling industry and why do you need to be aware of it? We are here to give you an insight into money laundering and online casino sites, more specifically how it impacts you and your gaming time.
Gambling, both land based and online has had a reputation for facilitating criminals and assisting in the legalising of 'dirty' money. This may have occurred in the past, because of the fact that a casino can turnover a large amount of money each day. But the ever-tightening regulations from government bodies such as the UK Gambling Commission (UKGC) has made it incredibly difficult, and as such criminals are looking for alternative methods.
The influence of the UKGC was seen in 2018, when a number of online casinos were informed that they had failed to ensure that their sites were not used to launder criminal money. As such they could possibly lose their licence if the matter wasn't rectified, which meant they could not provide services in the UK. The outcome led to tighter controls taken by betting operators to reduce what was a multibillion-pound problem.
What is Money Laundering?
You will probably be aware that money laundering is associated with crime, but you may not know the specifics. It is the method of converting dirty money which has been obtained from illegal activities such as drugs, sex trafficking and even some forms of gambling, and 'cleaning' it, or making it look legitimate. Once the money has been filtered through a business, if it was ever questioned then there would be evidence of it originating from a legal company, hence it being cleaned.
It sounds pretty simple, but in reality money laundering can be complicated and achieved in a number of ways. We have focused on the main one, which is using a business as the filter so the money is perceived as lawful earnings. As government bodies and businesses become aware of the methods used by criminals, then we are seeing them adapt their practices.
To ensure the gambling industry is safeguarded from this, a number of regulations have been introduced with the aim of keeping the sector reputable.
Safeguards to Stop Money Laundering on Online Gambling Sites
Identification Checks (Know Your Customer)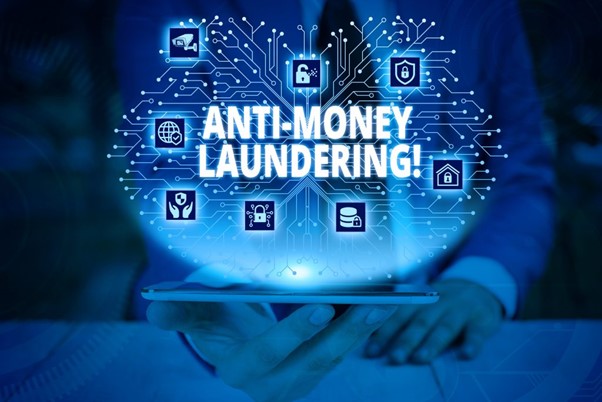 Using online companies was the perfect way for criminals to clean their money, without the need to provide identification to confirm their personal information. This has now changed with the introduction of 'Know Your Customer' which connects the player to their money.
The documents required will be used to corroborate the customers age, name and address. This will enable the casino site to monitor the player to see if they use any credit that is added, or if it is simply removed again.
The documents needed to fulfil the know your customer checks are.
Government issued ID, for example a passport or driving licence – This will verify your identity and age.
Utility bill or bank statement dated within the previous three months – To confirm your proof of address.
Some gambling sites have been known to conduct soft credit checks, but this will not leave any traces on your credit score.
The documents above will be the minimum standard requested by all UK casino sites, but you should be aware that some may require further ID to complete the know your customer process. Many will be cautious to ensure that they have fulfilled their due diligence to satisfy the UKGC.
During your gaming time with the site, you may find that they request financial documents for verification, otherwise known as source of wealth or source of fund checks. This tends to be when you have wagered a large amount or an abnormal amount to what you usually would. Again, this is to reduce the risk of money laundering and will require that you provide documents such as payslips or bank statements. The documents will be used to establish where the money you have used to bet has come from and that it is a legitimate source.
Wagering Requirements
It may seem odd to mention wagering requirements in an article about money laundering, but there is a relevance. For money launderers the aim is to use the casino to clean their money and to get it back as quick as possible and as much as possible. This is where wagering requirements can be a problem, because not only will it slow the transactional process down, but it means that the gambler will also need to play.
If you opt for a casino bonus or promotion on a gambling site, then you will find that there are wagering requirements attached. The value of the bonus credit that you receive will have a multiplier attached to it and you will only be able to remove funds from your casino account, once you have wagered the multiplied amount. So, for example if the bonus credit is £10 and the multiplier is 65x, then the amount you need to wager through is £650.
Not only is it a risk for the criminal to have to provide their identification, but now they have to wait and play casino games to receive their money. This is a problem if they are wanting to move large quantities of money at speed and it is the reason why there has been a significant reduction in the online gambling industry being used by launderers.
Maximum Bet Limits
We have already mentioned that most sites will conduct source of wealth checks should they feel concerned about a player's betting habits. This is why many high rollers tend to be verified on a regular basis. But in addition to the checks, all gambling sites will impose a minimum and maximum deposit limit, no matter the banking method that you use. The fact that there is a maximum limit, and it may come with extra ID checks will deter criminals from using gambling sites to legitimise their money.
As well as the site being highly regulated, the banking option will also come with checks and deposit limits. All in all, these elements can be seen as a hinderance by many regular gamers, but they have a purpose.
Cryptocurrency in Online Gambling and Money Laundering
Because of the fact that Cryptocurrency tends to be anonymous, it has a reputation for being used for criminal activity. But over the last few years there have been changes which is making it incredibly difficult to manipulate. Yes, you can buy products or services using cryptocurrency such as Bitcoin, but if you want to transfer it into actual money then you need to provide identification and personal details. Once again this removes the anonymity preferred by money launderers.
Summary of Money Laundering and Online Casino Sites
What was a major issue for online casino sites, has now significantly reduced because of the UK Gambling Commissions Proceeds of Crime Act 2002. It has added more protocols for gambling sites, with the aim of protecting the player and to ensure wider economic stability.
There are many reasons why players identification documents need to be validated, but one of the main ones is to reduce money laundering. We understand that the know your customer checks are frustrating, but essentially they are there to protect us.
If the gaming site felt there was an issue with a player, then they have a duty to report them for possibly betting with proceeds of crime. This will ensure that the gambling industry remains credible and it is vital to protect the site and the player.