Ad Disclaimer
Ad Disclaimer!
Boku Slots is an affiliation website. We help you find gambling sites where you can play with real money.
Many or all of the products and brands featured here are from our partners who compensate us. This may influence how the product or brand appears on a page. However, this does not influence our evaluations. Our opinions are our own.
The information on this page, including operator and game details, is updated regularly but subject to change.
Most online slot and casino players will choose a new site based on the theme, gaming options and bonuses available. Although they are important to ensuring we have fun as we play, it is the hidden elements which can really impact how you feel about a site. One of the top complaints made about online gaming sites to alternative dispute resolution (ADR) services, is the impact of terms and conditions; more specifically wagering requirements. Pretty much every casino you visit is exploding with welcome bonuses and offers to entice us, but as we all know nothing in life is free. Wagering requirements will have an impact on how you play and what promotions you choose. So, what are wagering requirements?
For those of you who have already settled on a casino site, then don't worry you won't need to register with another one. The majority of sites use a similar system, especially since UK casinos are now regulated by the Gambling Commission. If you switched to another then you would find a similar process and terms and conditions. One of the key elements that will vary players experiences is the wagering requirement multiplier, which could be anything from 35x to 75x the bonus amount. But we will delve into this a little further on in the article.
Where to Find Wagering Requirement Information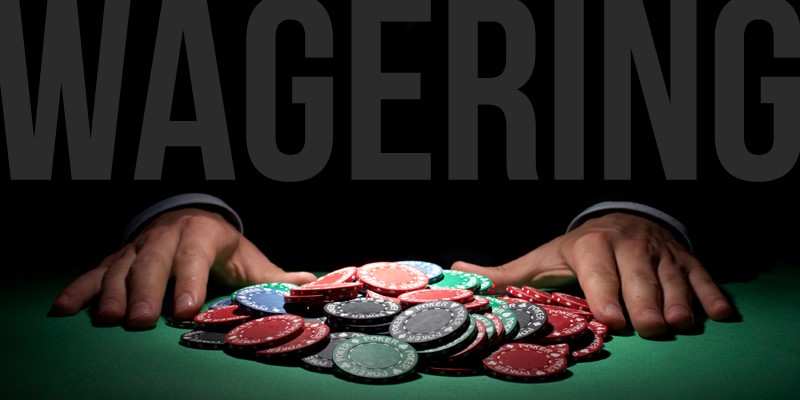 We have already mentioned the UK Gambling Commission (UKGC) and that's because they are an important influence on casino and slot sites. For a site to be able to run, it needs to be licenced by the UKGC and this means they have to follow a number of rules to ensure they comply. One of these rules has led to simplifying terms and conditions, which in the past were difficult to find and laborious to read.
Now you will find a link to the casino sites terms and conditions at the bottom of any pages you land on. The UKGC also legislated that any basic terms were labelled on banners and imagery publicising a promotion. This will only include basic information due to the size of the banners the sites use. But it will include the main elements that you need to help make the decision as to whether you pick the bonus, including the multiplier.
Although the thought of terms and conditions can be mind numbing, it is always worth having a scroll through to get the gist of what they involve. Especially if you are considering taking up their new player or regular promotions.
Wagering Requirements – The Basics
You may already feel like you're in information overload, but fear not, this is what you need to focus on if you're thinking about wagering requirements.
So, what are wagering requirements? They only apply if you have taken advantage of a bonus or promotion on the gaming site. If you don't like tying yourself in to bonuses, then wagering will not apply to you.
Most of you will have seen the plethora of bonuses available on the casino and slot sites, which are generally percentage based. This is what we call cash match bonuses, and it means that if we were to add £10 credit on a 100% cash match, then we would receive £10 free credit from the site; making a total of £20 to game with.
The condition of wagering requirements will begin at the point you win bonus credit on the site or accept it as part of a promotion. It means that should you win any credit; you will not be able to withdraw it from the casino wallet, until you credit your account with the required amount of money.
This is where the term multiplier comes in, because wagering requirements are shown as multiples of a set amount; for example, 40x or 65x. Looking at our example above, if you had received £10 free bonus credit from the casino and say for example the wagering requirement was 65x, then it would be 65 x 10 which would make £650. This means that you need to credit your casino account and play through £650 before you can withdraw any winnings from the site.
Not every bonus is percentage based, you will find some offer free spins for specific slot games. In these circumstances the wagering requirement is a multiplier of the winnings you received from the spins. The way it is worked out will be the same as the percentage-based bonus, but there is one slight hinderance. With cash match you can specifically choose the bonus you want to receive, whereas with spins it is potluck. This means that if you were lucky and won £100 on a multiplier of 65x, then your wagering requirement would be £6500 which is an awful lot more and can take a long time to work through.
You will find that on most gaming sites there is a calculator within the accounts section, and this will show you what you need to work through and how much is left of the wagering requirement. If you do win you will see the amount shown in a pending balance account, which will remain there until wagering conditions are fulfilled. You could choose to use any winnings to work through the wagering requirements also.
Once you have fulfilled the wagering amount, then any winnings or remaining credit will be transferred from the pending area into the main wallet. You then have the option of whether you wish to continue playing, or you can withdraw your winnings (minimum withdrawal conditions may apply).
The Reason for Wagering Requirements
It's probably incredibly obvious that the main reason for adding this condition is so that players don't use the site to win free credit and withdraw it immediately. Most casino or slot sites couldn't sustain this loss for very long and would end up shutting down. Because you have this required amount to reach, you will probably be playing on the site for a while. The gaming site's ultimate goal is that you play and enjoy it, so in the long term you become a regular visitor. This is where wagering requirements can assist the sites and as such welcome and regular bonuses are worthwhile.
On top of the initial reason there are also legal aspects which need to be considered. Online gambling is renowned for having issues with money laundering and as such they must ensure a number of checks are made to validate the player (also called 'know your customer'). Many criminals will be unhappy with the fact that they have to wager the levels of money required, to make the process worthwhile. But also, the fact that they could lose some of the money they are trying to legitimise, would make it an expensive exercise.
Reasons to Accept Bonuses with Playthrough Requirements
Sadly, this is something we cannot really answer for you because it depends on whether you enjoy bonuses and promotions, and if you can accept the terms associated with it. But these are a few points to consider as you make the decision.
How long do you intent to stay with the chosen casino or slot site? If it is for a longer period of time, then it may be worth taking the bonus and accepting the wagering requirement.
Can you afford the money needed to fulfil the playthrough requirements? Consider our example above, where you would have to play through £650 before you receive any winnings. Is this a viable option for you or is it better to just enjoy your gaming time without taking advantage of any bonuses. It maybe more advantageous for you to focus on game variance and volatility as this will help determine patterns for winning on slot games, rather than by playing through more credit.
Determine if the bonus you have chosen is worth the multiplier amount you would need to pay back.
We have mentioned this in the beginning of the article, but it is worth bringing up again, that you don't have to accept any casino bonuses; this includes welcome bonuses. You can choose to simply deposit credit and play your favourite games, without tying yourself into any terms and conditions.
If you like freebies and you intend on staying with your chosen site for a while, then the withdrawal restriction may not be an issue. Also, if you win and choose to use the prize on your multiplier, then you can work through the wagering wallet faster.
The Affect of Game Weighting on Wagering Requirements
Game weighting is a term that many players aren't aware of, even though it affects them alongside wagering requirements. Each type of game and in many cases actual specific games, will have a percentage weighting attached to them. That percentage is the amount that will be removed from your wagering wallet as you play, so it's important to consider the games you choose if you want to work through the wagering requirement faster.
On average slot games tend to have a 100% weighting which means that the full amount of your wager will be removed (e.g., £1 slot wager will see £1 removed from your wagering requirement). But games like roulette and blackjack have less of a percentage, because they need to take into consideration the lower house edge. Blackjack tends to be 10% (so if £1 is played then 10p is removed from the wagering wallet) and roulette is 25% (for £1 only 25p is removed).
With the example above it would seem obvious that the best choice of gaming would be slots, but of course it does depend on what you enjoy as well. If you're taking up a bonus, then ask the site for information on their game weighting percentages. Although terms and conditions are readily available, sadly weightings can be a little more difficult to access.
There are bonuses where you may be given specific games to play, but these tend to be related to bonus spin offers and of course slots will generally have a 100% weighting. Just make sure you check with the gaming site before you accept the bonus. Sometimes slot games can have varying game weightings, so your normal favourite may not be the best option.
Summary of Wagering Requirements
Hopefully, you have a better idea on what wagering requirements are and how they can affect you when you accept a bonus or promotion. Also, why it's important to consider the weighting of the game you choose. As always, we advise our readers to at a minimum have a scan over the terms and conditions. We know they're a lot, but it's better to have the knowledge before you make a decision, then be caught out later on. You can always contact your casino and ask them for additional information on wagering and weightings.