Ad Disclaimer
Ad Disclaimer!
Boku Slots is an affiliation website. We help you find gambling sites where you can play with real money.
Many or all of the products and brands featured here are from our partners who compensate us. This may influence how the product or brand appears on a page. However, this does not influence our evaluations. Our opinions are our own.
The information on this page, including operator and game details, is updated regularly but subject to change.
Most online casino players will have heard of the term Return to Player, otherwise known as RTP. But two newer terms to the gambling industry, especially for online players are volatility and variance. You may be intrigued and confused about what these terms mean, so we will explain slot volatility and a guide to high variance slots vs low variance slots.
You will find that most blogs and information sites will have every conceivable written fact about casino and slot sites. Yet there isn't much out there about the slot machine volatility index and its effect on slot games. What surprised us is that volatility is a term commonly used in both land-based gambling machines, as well as online ones.
Our aim in this guide is to explain what slot volatility is, the difference between volatility and variance, and how high and low variance affects your online gaming.
What Does Volatility Mean in Online Slot Games?
As we have already mentioned above, the use of volatility in connection to slot machines isn't a completely new concept for land-based machine players. But with so many changes in online gambling since the introduction of the UK Gambling Commission, many players are looking at new ways to assist their game play.
Basically, slot volatility is a way that gamblers attempt to predict how a slot game will perform as they spin the reels. This includes the number of times the reels will land in a winning position. It means that players can adapt their bankroll to suit the volatility pattern, with an aim to winning.
When you see the term slot variance this means that the player is aiming to predict both the likelihood of winning and the size of the winning prize. This tends to be broken down into high variance games and low variance games.
Difference Between Volatility and Variance

As we have already mentioned, both the terms 'volatility' and 'variance' are newer elements in the online slot's world. In fact, variance was originally used during poker games, but was found to be adapted for slot gaming.
In general, both expressions mean the same thing and experts tend to use them interchangeably. But there is a small component of difference which needs to be factored in if you are making a distinction.
Variance – This is when there is a change to what you would normally expect to see, i.e., any patterns in the game. It is basically seen as the return to player or RTP of the slot game. The problem with emphasising your focus on the RTP is that you may miss variations and specific arrangements. That is why it's best to focus on any varying configurations as you play.
Volatility – Again this term relates to changes and patterns in game play, but volatility tends to be associated with evaluating the finance of your bets. This means that you would adjust any wagering based on the patterns that you see from spinning the reels.
As you can see there's not a huge amount of difference between the two, what matters more is whether the slot game can be characterised as low volatility/variance or high variance/volatility. These are the points which will help us players create a gaming strategy as we spin, but it does require some time and work. Most players will focus on the RTP and that is completely understandable, as it does give you a good general idea of how the reels will play out.
With that in mind, why bother even considering volatility or variance then? With so many slot options available it is essential for us to know what we should expect as we play. Yes, we want to have fun, but we also want to win and knowing the patterns of the game can help you vary your gameplay and adapt your bankroll to suit your needs.
Measuring Slot Volatility
RNG and Slot Volatility
Explaining slot volatility isn't an easy task, so as you can imagine it is even harder to detail how to measure it. Any variance or patterns within the game will be affected by a software technology called RNG (Random Number Generator). The RNG is programmed in during the development of the game and determines things such as the payout and RTP percentage. It is an essential aspect to the slot games creation as it aims to keep the games fair and most importantly fun. But as you would expect from its name, the ways the reels land is completely random. The RNG algorithm will create random strings of numbers, but it begins by a specific starting point known as the seed which is how you can determine a pattern.
The software developers are very sensitive about disclosing any information about their RNG software. As such players should feel more confident that the games cannot be manipulated by the casino site.
We feel it's important to state that if you can determine the variance on one slot game, it doesn't mean the pattern will be the same on another. That stands even if the game was created by the same provider.
To gauge the variance on a slot game you pretty much need to do one thing and that is spin those reels. By watching how they land time after time and recording any patterns you see, you should be able to predict any future routines. Now remember the randomness of the RNG software, which can affect the overall variance and the fact that actual RNG programs are becoming more difficult to crack. You will need to spin an awful lot to establish this pattern, probably more than 100 spins in one seated session.
Not many people have the money to fund this type of game time, so we do have an alternative suggestion. Although most free demo slot games have been removed from casino and slot sites, for those of you who are just visiting a site to test its playability. You can still access demo games as a registered and verified member of the gaming site. This will provide you with the opportunity to play and spin as often as you like, although test spins don't always provide accurate results.
Pay Table and Slot Volatility
Another area to consider when looking at high or low variance, is the pay table on the slot game. Firstly, what is a pay table? It is a list which is available on the slot game that explains the types of symbols, the payouts and any bonuses. It tends to be labelled on the game as 'pay table' or with an 'i' for information. On mobile slots gaming you should only have to swipe the gaming screen right or left, and it will bring up the pay table.
The pay table itself can give you an idea of whether the game is high or low variance, simply by looking at things like the jackpot prize. Because it is explaining the affect of winning combinations when you land 2, 3, 4 or 5 symbols, you can make a comparison between the biggest win available and the max bet level. For wins 40 to 50x higher, then you will be looking at a medium to high variance slot game. For any pay tables which show a small difference between the max bet and prize, then it's more towards the lower end and may not be worth your while unless there are smaller frequent wins.
There is an exception to this rule, and this is understandably progressive jackpots, where the prize pot continues to grow until there is a winner. These types of slot games will normally have high volatility, but the base game winnings will be pretty small.
Levels of Variance and their Effect on Volatility
We have summarised to you the differences between low and high volatility, but here's an explanation in a little more detail of the 5 levels of variance.
High Variance Slot Games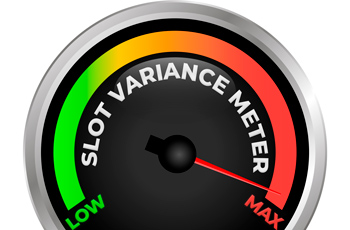 As we already know a high variance slot is one where you will have a larger prize pot, but wins will happen less frequently. This kind of game is ideal for the high rollers out there, who love to take a little risk in their wagering.
Because of the fact that there can be larger gaps between wins, establishing a pattern can take a while and will be more difficult to determine. The higher the variance the wider the gap between normal wins and what you would class as jackpot prizes. In an overall review of a high volatility slot game, you'll find the odds of a big win are relatively low. This means that if you are purely playing for the prizes you may have to wait a while, and this can be extremely tedious. For those of you who strive on then the payouts can be worthwhile, but you need to workout if you can afford the bankroll and then budget how much you wager accordingly. Most casino gamers will ensure they have a higher bankroll available for their gaming and this is also relevant when playing high variance games.
You will find some highly volatile slots with low bets, from the top gaming providers such as Microgaming, NetEnt and Playtech. These are ideal for new slot players who tend to focus more on RTP, which will even the odds the longer they play. But the stability of high volatility games will always make it difficult to predict what balance you will need for your gaming sessions.
If high variance games sound ideal for you and you are prepared to take the time and work through the lost spins, then we have a few examples from the top providers we have named below. Ensure you have an adequate bankroll to maintain the length of time that it will take. But remember that playing online slots is about having fun, so never bet more than you can afford, as highly volatile slots don't always go to plan.
High Variance Slots Playtech
Playtech was founded in 1999 and have a wealth of slot games in their library, with many well-known feature favourites. Their RTP's tend to be on the higher level and as such it means they have higher volatility slots. Here are a few of the higher variance names, but again be aware that if they have a progressive jackpot it will be harder to evaluate the patterns.
NetEnt Slots High Volatility
NetEnt are pretty much the gaming giants that all other developers aspire to be, with some of the most beloved slots coming from this brand. They are known for higher RTP's but this can mean much higher volatility when you play and larger prizes. When it comes to high variance at NetEnt slots here is where you will struggle, because they tend to be more on the lower end of the scale (especially the featured favourites) and there aren't many games which offer progressive jackpots.
Microgaming Highly Volatile Slots
Another brand known for quality is Microgaming which was founded in 1994 and who bring us some unusual and diverse slots. Their huge library of games is best known for the unique features and bonuses which players have come to expect. When it comes to variance then you can find whatever your preference.
Medium to High Variance Slot
The next level of variance is medium to high volatility, which maybe less popular than others but it is still worth looking at. Although the gamble is lower than high variance slots, you will still find these as a riskier prospect. You will find more medium-high slots with brands such as NetEnt, because they offer a higher RTP percentage than slots under the high volatility category. So, you have a greater chance of winning due to the RTP and the opportunity for larger amounts due to the variance.
Slots with Medium Volatility
For those of you on the cautious side then medium variance will be your best option. It basically means that you are choosing a game with higher pay outs, but your bankroll should last a little longer than the higher variance slots. It's an option for those who prefer the middle ground and enjoy smaller prizes more frequently. With medium level games such as Jack and the Beanstalk from NetEnt, you will see more bonus features which for many players is what makes a slot game more interesting.
So, if you're uneasy about taking too high a risk and draining your bankroll at super speed, but you still enjoy decent win amounts then this is the level you'll want to work towards. Thunderstruck II from Microgaming is an ideal option and offers a number of bonus features.
Low to Medium Variance Slot Games
We're heading towards the other end of the scale, so obviously we're expecting more wins but for smaller amounts. Now this doesn't mean that you shouldn't consider this as an option, because you can play for longer and hopefully enjoy higher prize pots than the lower variance games. For example, the Crown of Egypt from IGT is perfect for those of you on a budget, who want to enjoy the game for what it is rather than the payout.
Low Variance Slot Games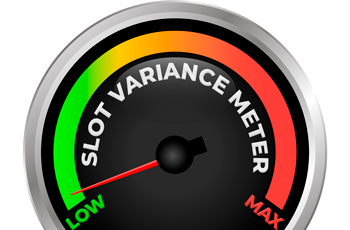 Right at the bottom of the scale is low volatility which as you know means small frequent wins (on average at least once every 3 to 5 spins), in comparison to big wins less often. You will find that these are the slot games where you have a better chance at monitoring patterns and predicting wins. This is mainly due to the fact that the wins happen more often. Low variance games are the ones where you may want to practice using the demo option, so you can work the slot out and adapt your bankroll when you actually play.
As with the low to medium slots these games tend to be for newbies and players who like to relax and just spin the reels, rather than focus on big jackpots. They are classed as low risk which connects back to the low payouts, and when you match it to your wager amount you will see they're pretty much the same. So, if you go for low variance then aim for high RTP to increase your chance of winning.
To help you spot a low variance game simply head to the pay table and see if the payout is small, and there isn't a lot of difference between 4 and 5 symbol wins.
NetEnt tends to be the go-to provider for low variance slot games, especially if you like tons of bonus features. But that doesn't mean that you shouldn't check out other providers to vary your gaming.
Low Variance Slots Playtech
The main Playtech titles seem to be high variance games, but don't be discouraged because they do have some low options. They tend to be branded themes such as Marvel and of course normally with low variance you can enjoy bonus features.
NetEnt Low Volatility Slots
With a huge library of games, incredible themes and bonuses, NetEnt is the ideal gaming provider if you're choosing a slot to play on for a period of time. They tend to be more on the generous side with their RTP, which should see your bankroll last longer than normal.
Microgaming Low Volatility Slots Gaming
Finally, Microgaming who have lots of options when it comes to slot games, but not necessarily for low variance. The low volatility games tend to be older titles and as such are a little dated when you compare them to NetEnt options. But the slots they do have are all well known games and they'll tick all the right boxes for you.
Difference Between Slot Volatility and RTP
Return to player known as RTP has been mentioned a few times within this article and it may be confusing for you to understand the difference between RTP and volatility. Firstly, lets explain what RTP is for those of you who are new to online gambling.
RTP is the percentage return that a gaming site will offer a player when they wager, i.e., the return to player. So, if the slot game had a 98% RTP, you should see an average payout of 98 times for every 100 spins. Of course, this is affected by the RNG and as such the number of times you win is random, but most people aim for slots with the highest RTP's.
The main difference between the two is that RTP is measured in the long run, meaning your percentage rate will be better over 100's of spins. But this won't benefit players who can only accommodate a small bankroll of 20 to 30 spins.
Now in comparison volatility or variance depending on the level, will have more of a general impact on the results of your spins. Obviously the lower the variance the longer your bankroll should last and as such you can adjust as you play.
Overall, the best result would be to combine both volatility and RTP when picking a slot game. By choosing a high RTP you know you're picking the better option for your wins and then variance will give you the knowledge of how the game will affect your bankroll.
Which Variance or Volatility Level to Choose? High, Medium or Low
This isn't an easy one for us to answer, because it pretty much depends on you the player. What games you like and more importantly your bankroll. We've already explained the benefits of each variance level, so you will need to take that into consideration and most importantly which one looks the most fun. Because essentially the reason we play online slots is to have fun and gamble responsibly.
Those of you who prefer the intensity of high-risk games and big prizes, will probably prefer the high volatility slots. Whereas those of you who aren't drawn in by the thrill of the wins alone and just enjoy spinning the reels, may prefer low volatility. If you're looking for an element of both, then you're probably headed for the medium volatility games.
Summary of Slot Volatility and a Guide to High Variance Slots vs Low Variance Slots
This new element in online slots gaming is becoming more and more popular, and it can only help with your gambling strategy. There are various aspects which can impact whether you win or lose and by how much. But the level of slot volatility should certainly be one that you look into. The way you handle your bankroll over your gaming time can have an impact on whether you win and will keep you gambling responsibly. Sadly, the RNG is always going to affect the final outcome and gaming providers are becoming more savvy in the way they code this technology.
Our advice is consider all of the different areas such as slot game features, the pay table and variance, but mainly choose a game which you will enjoy. Because essentially you will be on there for some time and there's no point playing a game that you find boring. Remember to use the demo option on the casino as a 'try before you buy', because this will give you a good idea about the game before you make a real money wager.
Other than that, we hope you enjoy our casino suggestions and good luck!